Congratulations, team Braze!
Last month we celebrated Braze becoming a publicly traded company (NASDAQ: BRZE). Rally Ventures led Braze's Series A financing in 2013, and we've been proud to partner with the company on its entrepreneurial journey ever since that initial investment.
Braze is a leading customer engagement platform that powers customer-centric interactions between consumers and brands. It helps brand teams collect and automatically sort customer data, create contextually relevant, cross-channel marketing campaigns and evolve their customer engagement strategies based on real-time feedback.
We were introduced to the three founders — Bill Magnuson, Mark Ghermezian and Jon Hyman — through Rally Technology Partner Alex Lloyd. Braze was initially positioned as a customer engagement platform (primarily push notifications) for mobile apps.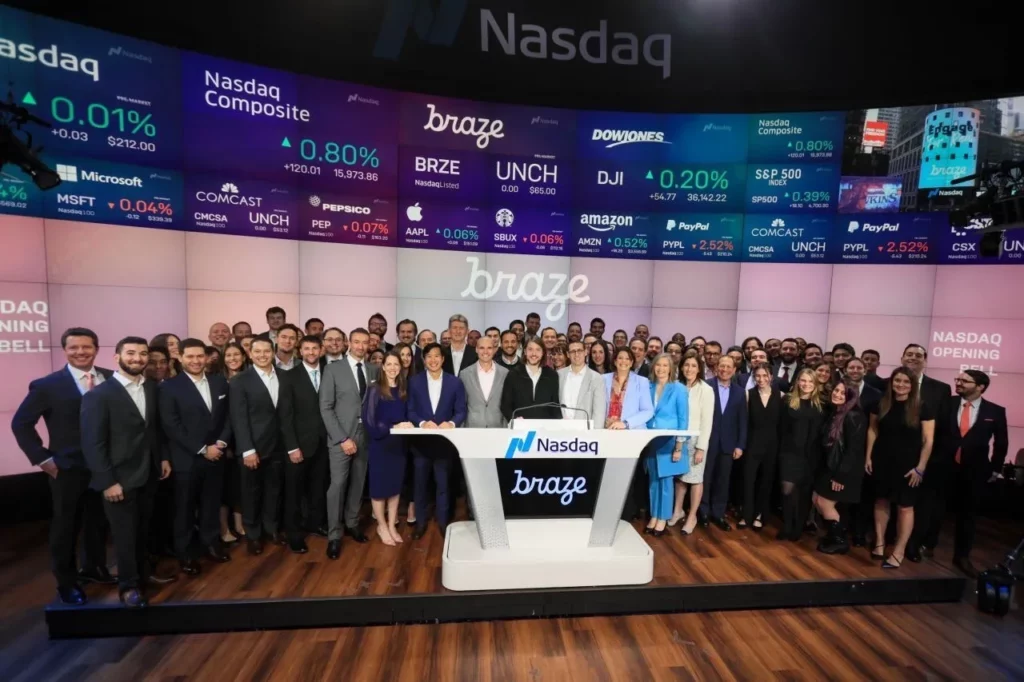 In 2013, most digital marketing was done through email, search engine marketing or display advertising. The major marketing cloud vendors — like Oracle, Salesforce and Adobe — weren't effectively helping their customers market to consumers on mobile devices.
We saw an opportunity with a founding team who was very familiar with mobile infrastructure and who realized that mobile marketing was a key ingredient to establishing close relationships with consumers. There were other companies in the mobile market who were further along than Braze in the development of a mobile customer engagement platform, but we felt this team, who Rally Venture Partner Tom Peterson describes as "brilliant", "insightful" and "among the smartest guys I've been around", was truly exceptional.
At the time of our investment, Braze's product vision and technical team were outstanding, but the company's go-to-market team was immature. Consequently, Rally Technology Partner Marc Parrish became an active advisor and soon thereafter agreed to join the company as its chief operating officer for a year to help develop the go-to-market strategy and secure early customers.
Just over one year and several early customers later, the company made a transformational hire when Myles Kleeger (the company's current president and chief customer officer) agreed to join as the company's first chief revenue officer. Myles was a major proponent of moving the company heavily into email marketing, which was an early step in moving Braze beyond mobile and put the company head-to-head with the big vendors.
From the beginning, Braze had the tech edge. Bill and Jon are strong product and customer focused leaders who understand what the competition is doing and how Braze can differentiate itself. The entire management team is notable for being metric-driven, automating as much as possible and continually looking for inefficiencies.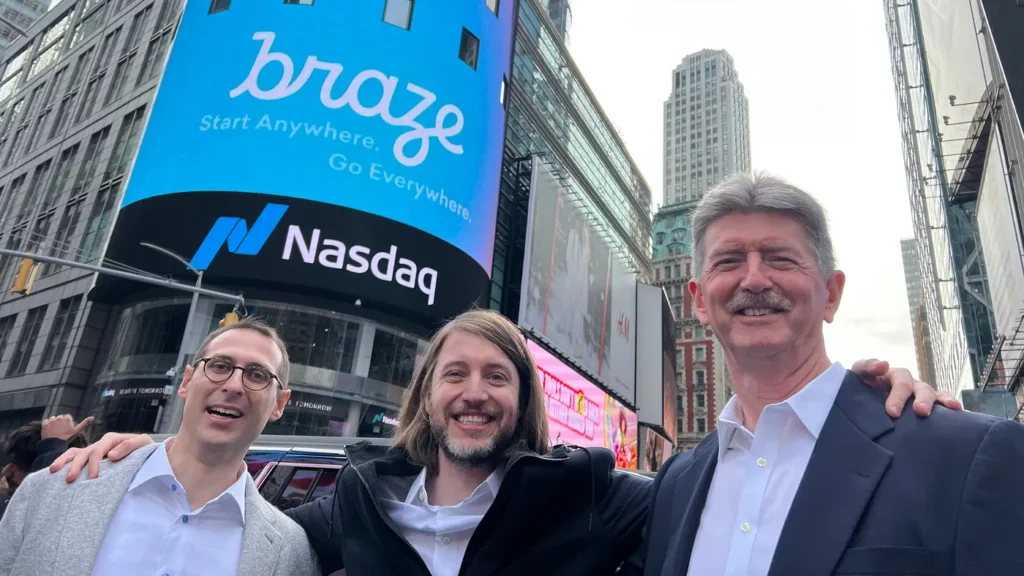 Jon Hyman, Bill Magnuson and Tom Peterson
Even today, many companies' customer data is siloed inside different applications for email, push notifications, SMS and in app messaging. Braze undertook a huge infrastructure build early on to emerge as a new stack marketing cloud. The company centralized all their consumer's data, which means consumer data is captured in one place and Braze's customers can talk to any consumer on any channel and get a single accurate view of consumer interactions to make better marketing decisions and fine tune the messages people are receiving.
The company eventually moved beyond a purely mobile platform to expand into the full customer engagement automation platform it is today. Braze has grown tremendously and is now more than $200 million in ARR and is established as a market leader. Braze has been acknowledged as a Leader in "The Forrester Wave™: Cross-Channel Campaign Management (Independent Platforms), and in "The Forrester Wave™: Mobile Engagement Automation" and listed in the Forbes Cloud 100 four years in a row.
Braze also demonstrates strong cultural and civic leadership. Internally, Braze for All has been a cornerstone of building a diverse culture while externally, Braze spearheaded Tech for Black Founders to assist companies founded by Black entrepreneurs. Braze has been recognized as one of Fortune's 2021 Best Workplaces in New York, Fortune's 2021 Best Workplace for Millennials, 2021 UK Best Workplaces for Women by Great Place to Work, as well as being recognized in Crain's Best Places to Work in NYC three years in a row.
From all of us at Rally to the Braze team: we're proud to have been part of your incredible story and we will continue to support and cheer you on as you move into the next phase of your journey!